2019 is just beginning but already the new generation of high-powered sport sedans have hit the road.
Are you looking for the most powerful, comfortable, high-tech and all-around best sport sedans of this year? Check out this list of our top picks, and when you're ready to get behind the wheel of one of them, contact Capital Motor Cars to discover our special lease deals with no money down on these hot vehicles.

1. 2019 Infiniti Q50 3.0
The Infiniti Q50 3.0 is a sharply styled powerhouse of a sedan. Mostly unchanged from last year, its aggressive design, impressive array of safety features (forward collision warning and automatic emergency braking are now standard) and competitive fuel economy make it an ideal choice for those who want a luxury car without breaking the bank.
The Q50's turbocharged V6 engines pack quite a punch. This is a car that's eager and ready to go, yet with strong brakes and tight, precise steering that makes a driver feel confident behind the wheel.
The interior is spacious and straightforward. A wide range of seat adjustments and steering wheel positions allow for optimized reach and visibility for different drivers.
Overall, it's a vehicle that's practical enough for your daily commute but sporty enough to make that drive exciting.
Exclusive deal at Capital Motor Cars (Updated 9/5/2019): Get a 39 month, No money down lease starting at $423/month with $2,760 taxes & fees. Must qualify for corporate incentives. >> GET DEAL

2. 2019 Lexus ES 350
The new Lexus ES 350 is a complete redesign from last year's model. It's a car that's just oozing class: beautifully designed, comfortable inside and smooth on the road.
Its 3.5-liter V6 engine now produces 302 horsepower and 267 lb-ft of torque, making it quicker on its feet and more agile than before. Matching this is its sleek design with flowing, kinetic lines.
Still, the ES 350 is a great pick for a family car. Its large cabin and smooth ride make it enjoyable for all passengers, and the deep trunk offers plenty of room for luggage.
Also new this year is the F Sport trim, an athletic twist on an already capable sedan.
Exclusive zero down deal from Capital Motor Cars (Updated 9/9/2019): 39 months 7,500 miles per year, starting at $431/month with $2,880 taxes & fees. Must qualify for eligible rebates. >> GET DEAL
3. 2019 Nissan Maxima S
If you're looking for an all-around winning sedan – a car that offers luxury comfort, sporty get-up-and-go and enough tech to keep even the most gadget-obsessed driver happy, all on a modest budget – the Nissan Maxima S is your car.
High value and versatility make the 2019 model a keeper. Striding the line between ease and athleticism, it handles well with brisk acceleration and balanced cornering.
Five can sit comfortably in its thoughtfully designed interior, which is lined with quality materials and packed with features. The infotainment system is easy to use, providing vehicle monitoring, remote access and emergency services along with standard infotainment functions.
Parents of teenagers can appreciate that this system even offers speed, boundary and curfew alerts to help keep young drivers safe.
Don't miss our best deals...
Contact us today
to find your dream car
As Nissan's flagship sedan, it's no surprise that this is a good-looking car. Its distinctive sloping profile remains in the 2019 model, while some small redesigns give the new car a fresh look.
Get a No Money down lease offer with 12,000 miles per year: From $284 per month with a 36 months lease term on the 2018 Nissan Maxima S which is practically the same as the 2019's. Limited inventory so hurry, hurry. Also get additional discounts with lease incentives.

4. 2019 Mercedes Benz E300
With its posh interior and next-level tech, the latest Mercedes Benz E300 has luxury written all over it. This is a sedan that exists to make driving a joy. It offers a powerful yet refined driving experience, supported by features like the COMAND Navigation system.
This system allows you not just to navigate but to adjust driving settings, customize ambient lighting within the car and more, on a high-level touchscreen display.
The 2019 E300 is definitely one of the most comfortable cars in its class. Its interior radiates class and you can sit in its seats all day. But it doesn't sacrifice performance for comfort or style: the E300's engine provides 241hp with 273lb-ft of torque, and it can go from 0 to 60mph in 6.2 seconds.
This is the car for the discerning driver who wants the best of everything, no exceptions.
Executive pricing from Capital Motor Cars: This beautiful Mercedes is offered with Zero Money Down on a 36-month lease, and depending on the premium package prices may vary. Get in Touch with our Exclusive Mercedes Benz Leasing Agent.

5. 2019 Audi A4
The 2019 Audi A4 has a few specs to set it apart.
First, its acceleration: from 0 to 60mp in 5.2, putting it ahead of any other vehicle in its class.
Then its precise steering and handling, which allows it to feel sharp and eager while easily absorbing the shocks of the road for a smooth, quiet ride.
Then there's ,the A4's remarkable fuel economy: 27mpg city and up to 37mpg on the highway. That's a big increase from last year's model and a step up from what you'll find in similar vehicles, especially considering the A4's high performance.
Finally, it's a good-looking car. That never hurts.
The clean lines of its exterior are a reminder of the beauty of simplicity. On the inside, the cabin balances function and style admirably, with plenty of tech and easy-to-use features.
The A4 also earned top scores on crash tests with both the NHTSA and IIHS.
Exclusive deal at Capital Motor Cars: $667/month for 36 months with zero down payment.

6. 2019 BMW 530xi
The 2019 BMW 530xi hits all the highlights of the BMW 5 series. It stills boasts a powerful TwinPower turbo 4-cylinder engine, putting 248hp under your foot, but the redesign of this year's model emphasizes ride quality and comfort.
And it succeeds to the letter. The seats and climate control system offer a dizzying number of variables, so everyone in the car can adjust to their own exact preferences. On the road, it's quiet and smooth. You really get the sense of riding in high luxury.
Tech features and driver aids are top of their class, as you might expect from BMW. The adaptive cruise control works great to maintain a tight yet safe gap from other cars, with automatic emergency braking when needed.
The voice recognition software is also advanced and highly functional.
Exclusive deal at Capital Motor Cars: $603/month for 36 months with zero down payment.
7. 2019 Volvo S90
Unpretentious good looks and a generous assortment of luxury features make the Volvo S90 an appealing and high-value sedan. Dual-zone automatic climate control, Bluetooth connectivity, a 9-inch touchscreen and a suite of advanced safety features come standard, among other offerings.
The safety suite includes semi-autonomous driving software that can pilot the car both on highways and in stop-and-go traffic.
The exterior design strikes the eye as elegant and contemporary, without a single jarring line or detail out of place, while the interior is light and airy.
Exclusive deal on the 2018 Volvo S90 starting at $480/month for 39 months with zero down payment, while supplies last.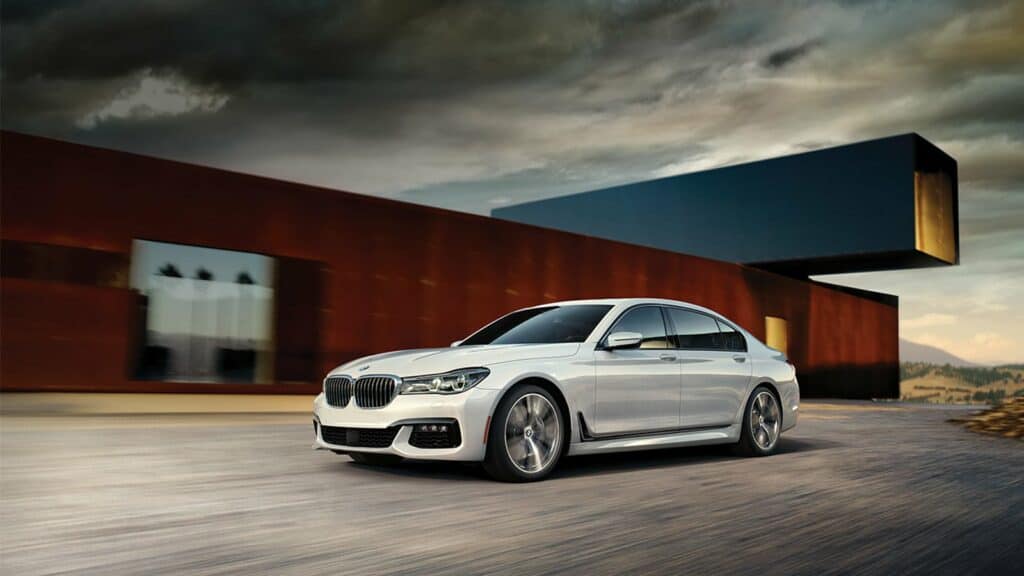 8. 2019 BMW 740i XDrive
Last on our list but definitely not last in quality, the BMW 740i. The 7 series is top-of-the-line luxury, and the 740 is a shining example.
It's a large sedan – and the spacious interior certainly feels like it – but also a strong performer, especially with all-wheel drive.
The 740i XDrive promises tons of power and great response from the transmission. Its muscular turbocharged engine delivers 320hp yet the interior is surprisingly quiet, adding to the feeling that you're riding in a high-class vehicle.
New for 2019 is more standard safety features, joining a list of tech that also includes 10-way power-adjustable seats with heating, memory settings for the driver's seat, a panoramic sunroof,
four-zone climate control and BMW's navigation system with real-time traffic updates.
The interior is high-end bordering on opulent, lined with premium materials and Dakota leather seats.
Exclusive deal at Capital Motor Cars: $901/month for 36 months with zero down payment.