The dawn of the new millennium ushered in a new age of film. In this fantastic new era of cinematic wonder, quite a few movies stand out.
Most critically-acclaimed movies are praised for their plot, performances, and visuals. Here at Capital Motor Cars, we're only interested in those sweet rides that are on the big screen that make our jaws drop.
So without further ado, here's our top 10 movie cars of the past twenty years along with some honorable mentions!
#10. 2014 Dodge Challenger SRT-8 392, Nightcrawler (2014)
Coming in at number ten is a criminally underrated movie that features a beast of a car. Jake Gyllenhaal plays an eccentric young man that is trying to make ends meet. He eventually falls in love with crime journalism. Requiring a car with a lot of power to get to the scenes of stories first, he buys the behemoth Dodge Challenger SRT-8 392. With a whopping 470 horsepower and going 0-60 in four seconds, Gyllenhaal's all-red Challenger is a sight to behold. Even watching the film, you can feel the power behind the SRT-8 as it zoomed down the streets of L.A in the early morning hours. All in all, this car really stands out and highlights the warped mind of Gyllenhaal's character as it greatly contrasts with his mild-mannered guise.
#9. 1969 Mustang, John Wick (2014)
Another classic car for a classic movie, the beloved Keanu Reeves drives this 1969 Mustang in this action-packed film. (SPOILER ALERT) Along with wanting to avenge the death of his dog, Reeves' goes through hell and back to get his beauty of a car back. This may be the extreme end of the connection that exists between cars and their owners, but many can relate to that feeling of being willing to do almost anything for their "baby".
#8. 1969 Chevrolet Chevelle Malibu, Talledega Knights (2006)
One of the best comedies in the past 20 years, Will Ferrell stars as a race car driver that loses his mojo when another skilled driver joins his league. Driven to rock bottom, Ferrell is forced to relearn how to drive in his father's 1969 Chevelle Malibu. A great car to learn how to "go fast!" again, the Malibu features a monster 325 horsepower engine that Ferrell used to outrun police in the movie. The classic sleek but chiseled Chevelle appearance is a classic in itself as it was deemed America's most popular mid-size car in 1969. A joy to look at on the big screen, especially these days, this Chevelle steals the show in our minds.
#7. 1999 BMW 735Li, Transporter (2002)
One of the more cooler films of the 2000s, the Transporter features action star Jason Statham as a professional driver-for-hire for criminals. Statham's no-questions-asked attitude often lands him in trouble and with the wrong people. The 735iL features a 282 horsepower V8 engine that looks as good as it drives. Statham pilots the high-tech BMW (equipped with the ability to change license plates) that dispatches turns with ease. The handling of the car is so excellent that one of the passengers gets sick in the opening chase scene. A great advertisement for BMW that birthed many fans of the automaker, the Transporter offered an excellent depiction of the bond between a man and his car.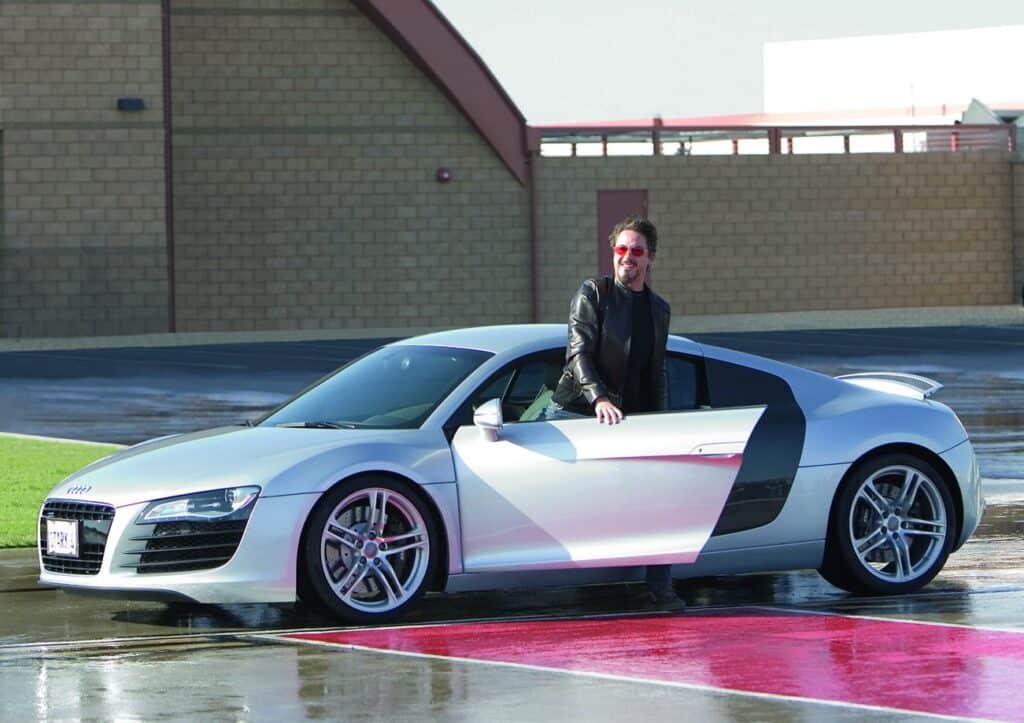 #6. 2008 Audi R8, Iron Man (2008)
The movie that kicked off the modern day Marvel film juggernaut, Robert Downey Jr. stars in this superhero classic. A self-proclaimed "billionaire playboy philanthropist", Downey plays a genius weapons manufacturer that lives a life of luxury. A perfect benchmark of wealth, the 2008 Audi R8 was chosen to represent Downey's lavish lifestyle in car form. The R8 features a 420 horsepower engine and can go 0 to 60 in 4.4 seconds. More impressive than its performance, is the R8's unique futuristic looks. Featuring a split front grille and indented sides, the R8 is both flashy and unique, just like its owner.
Don't miss our best deals...
Contact us today
to find your dream car
#5. 1993 Toyota Supra Turbo, The Fast and the Furious (2001)
A remarkable performance by the late Paul Walker made this movie about exotic car racing an instant classic. The Supra Turbo in the film was a bargaining chip between the main characters and was essential to the plot. An obviously attractive looking vehicle, the Supra also had the performance to back it up. A twin turbocharged engine with 320 horsepower fuels this beast of a sports car. Almost like its main characters, this movie made the Supra immensely popular and demand skyrocketed. Being that the Supra is relatively easy to modify, this was also a popular choice for many car enthusiasts.
#4. 2003 Mini Cooper S, Italian Job (2003)
This remake of the original Italian Job once again ignited the love for Mini Coopers in many people's hearts. These pocket-sized automobiles ARE the show in this action movie about pulling off heists and getting revenge. The Minis were used in many chase scenes and showed just how versatile they can be if you ever need to make a quick getaway. Although we wouldn't recommend driving yours down staircases or on train tracks as the drivers in the film do.
#3. 1970 Dodge Charger R/T, The Fast and the Furious (2001)
You know we had to include this absolute monster in our list. Famed in the inaugural Fast & Furious movie for having 900(!) horsepower and a record 1/4 mile time of 9 seconds, this Charger is the stuff of legends. After being wrecked in the first movie, it is eventually repaired and makes several more appearances in the Fast & Furious franchise. A perfect car for Vin Diesel's character, it exudes raw power and absolute zero subtlety.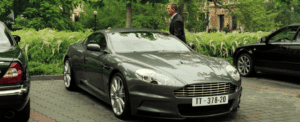 #2. 2007 Aston Martin DBS V12, Casino Royale (2006)
Aston Martins and James Bond films. An unbeatable pairing of class and style. The DBS will always be a class below the immaculate DB5 that made its name in earlier Bond movies, but the DBS still serves as a great addition to the Bond franchise. A behemoth 6.0-liter V12 engine with 500 horsepower fuels this elegant but feisty ride. Although there isn't any real car chase scenes in this film that truly do the DBS justice, this gorgeous car is still a joy to look at.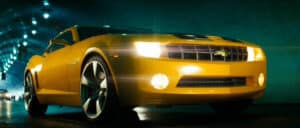 #1. 2009 Chevrolet Camaro, Transformers (2007)
A huge blockbuster success, the cars that appeared in Transformers were almost as popular as the movie itself. Prior to 2009 Chevrolet had not released a new Camaro since 2002, and the anticipation surrounding the latest edition of the sports car could not have been higher.
The first installment of Transformers extensively featured the 2009 concept design, which was part of the fifth generation of the Camaro. One of the most effective auto marketing campaigns ever, the Camaro was not only immensely popular due to the movie and its looks. The Camaro might also be one of the most affordable movie cars to date, and it certainly is on this list. The starting MSRP of a 2010 Camaro at the peak popularity of Transformers, was about 23,000 dollars, making it a realistic option for most people that went to see the movie (Which remains the #36 highest grossing film ever in North America).
The Camaro was so popular that GM came out with a special Transformers appearance package, so you could have one identical to one in the film. GM even saw an irregular 10% rise in sales of yellow Camaros, surely due to the worldwide popularity of the transformers franchise. Also gaining additional exposure from toy sales, the Camaro became one of the most recognizable cars of this generation. All in all, the Camaro has benefited the most from the movies it starred in, in terms of popularity and sales.
Honorable Mentions: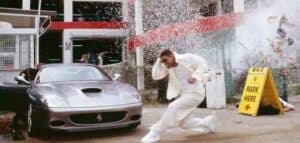 2002 Ferrari 575 Maranello, Bad Boys II (2003)
1967 Shelby Mustang GT500, Gone in 60 Seconds (2000)

1972 Ford Gran Torino Sport, Gran Torino (2008)

1967 Pontiac GTO, XXX: State of the Union (2005)