Spring is finally here, and here at Capital Motor Cars, we're not going to lie – we couldn't be more excited. Time to shake the rust off of those sunroofs, take the top down on that convertible if you have one, and enjoy the warm, fresh air as you cruise down the street.
Unless you have allergies of course, then it might be time to stock up on some Claratin. We feel for you allergy sufferers, we really do.
Along with the gorgeous weather in the tri-state area, Spring also brings along some great zero-down lease deals!  Between graduation season, Spring clearance events, and folks gearing up for the Summer, April is actually a great month to shop for a car.
On that note, we've pinpointed the four best deals we could find on some very popular and best-selling models, because after all, April is the fourth month of the year. (see what we did there?)
We definitely leaned SUV and crossover heavy for this list, since automakers are featuring them right now with special incentives and aggressive rebates – AKA better deals for you.
And since we know lessees typically don't like to drop a ton of money at signing, we structured each deal with only first month due at signing. You can thank us later.
Read on to find to check out our featured deals and contact us to learn more!

1. 2019 Nissan Rogue Sport S
The little brother of the wildly popular Nissan Rogue, the 2019 Nissan Rogue Sport S is a smaller, more versatile sub-compact SUV entry in the Nissan lineup. Introduced in 2017, this five-passenger crossover has much of what people love about the Rogue, in a more compact package.
Exterior looks are borrowed heavily from the Rogue, and that's not a bad thing since the Rogue is a great looking car in our opinion. On the interior, the Rogue Sport is also heavily influenced by the Rogue, just with the corners tucked in a bit more.
Standard features are really where all new Nissan's shine, and the Rogue Sport is no exception. Apple CarPlay and Android Auto are equipped to a beautiful and well functioning 7-inch touchscreen infotainment system. Nissan's fantastic standard safety suite comes with blind spot sensors, automatic emergency braking, brake assist and LED daytime running lights.
Although the Rogue Sport isn't exactly what you would call a "speed-burner," it's still able to pump out a decent 141-hp from a 2.0L 4 cylinder engine. For most people entertaining the Rogue Sport as a versatile family car, performance is one aspect that you may have to overlook in favor of safety and affordability.
Why we love it: Versatile, affordable to lease, solid list of standard features.
Current zero-down lease deal at Capital Motor Cars: $279/month for 36 months, 12,000 miles with zero down payment >> Click Here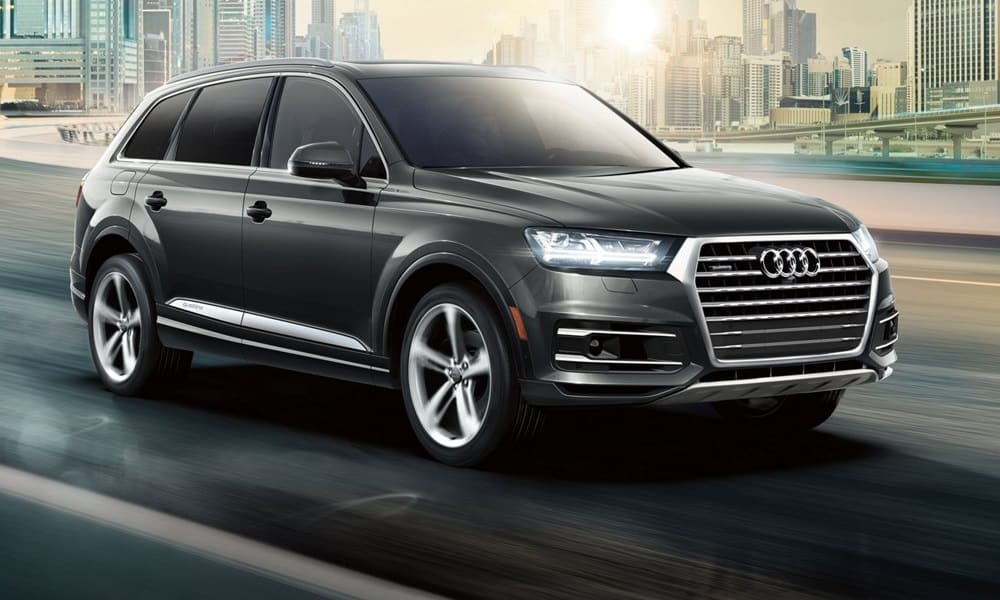 2. 2019 Audi Q7 Premium 2.0
There are plenty of reasons to love the 2019 Audi Q7. For starters, the Q7 screams luxury from the inside out, with sophisticated looks, elite build quality, and premium materials.
Ride quality is smooth, cabin noise is almost non-existent and there's sufficient power output from the 256 HP turbocharged four-cylinder engine.
The Q7 boasts three rows, but at its best, the Q7 is more suited as a 4 or 5 passenger vehicle that is great for long trips. Leave the third row up, and you'll find limited space for even the averaged sized adult and diminished cargo space. However, put the seats down and suddenly you've got ample space for your four passengers and all their belongings.
The 2019 Audi Q7 Premium boasts impressive standard features which include:
Navigation
Bluetooth
Leather and Wood Trim
Heated and Power Front Seats
Panoramic Moonroof
Power-Folding Third Row Seats
Automatic Emergency Braking with Forward-Collision Warning
Why we love it: One of the top luxury SUVs on the market, fantastic build quality, ample performance.
Current zero-down lease deal at Capital Motor Cars: $676/month for 39 months, 7,500 miles with zero down payment >> Click Here 

3. 2019 Jeep Grand Cherokee Laredo
One of the top-selling SUVs in North America year-after-year, the 2019 Jeep Grand Cherokee is easily one of the most recognizable SUVs on the road today.
With rugged good looks, a standard V6 engine that pumps out a robust 300 hp and comfortable seating for five, the Jeep Grand Cherokee is in many ways the gold standard of American SUVs.
Not to mention that the Grand Cherokee is a blast to drive off-road, with it's all-wheel-drive powertrain and different drive modes that adapt to snow, dirt, sand and more.
On the inside, the Grand Cherokee is far more than an off-road beast. You'll find the fantastic Uconnect infotainment system, premium materials, and leather if you feel the need to scale up.
Overall, the 2019 Jeep Grand Cherokee has something for every driver and that's exactly what makes it an exceptional car for anyone to lease.
Why we love it: High performance combined with exceptional off-road capabilities.
Current zero-down lease deal at Capital Motor Cars (Updated 9/9/2019): $268/month for 36 months with $2,018 taxes & fees, 10,000 miles with zero down payment >> Click Here 
4. 2019 Dodge Durango SXT Plus
As far as third-row SUVs with attitude go, the 2018 Dodge Durango SXT Plus might take the cake. With an aggressive front grille, muscular yet sleek styling and a standard 3.6L Penastar V6 engine, the Durango makes for a capable family hauler, that doesn't sacrifice performance for practicality on any level.
The SXT Plus comes capably equipped with 18-inch carbon aluminum wheels, ParkView rearview camera system and comes integrated with Apple CarPlay/Android Auto. Just like the Grand Cherokee, the Durango features the 7'' Uconnect infotainment system, one of the easiest and intuitive systems on the market.
Inside the cabin, you'll also find similar design elements from the Jeep Grand Cherokee as well as comparable build quality. Ride quality is on the stiff side but generally smooth. Passenger and cargo room is spacious and the third row is actually, well, a third row for actual adult humans!
Where the Durango comes up a bit short is on gas mileage, averaging an EPA estimated 19/26 city and highway. Options can get pricey as well if you're looking to go up in trim, but for most folks, the SXT Plus model will come with enough bells and whistles to satisfy the average buyer that doesn't want to settle for a ho-hum SUV. Overall, if you need a third-row vehicle that packs a punch, the 2018 Dodge Durango SXT Plus should be on your short-list of potential seven-passenger vehicles.
Why we love it: Seven-passenger SUV with attitude, standard V6 engine, exceptionally fun to drive
Current zero-down lease deal at Capital Motor Cars (Updated 9/5/2019): $443/month for 36 months with $2,697 taxes & fees), 10,000 miles with zero down payment >> Click Here